Sending Mass Emails
Sometimes you may want to send an email to many students at once. Using list views, you can easily send an email to groups of alumni with just a few clicks. If you need to send an email to just one student, check out this article.
Mass emails are called List Emails in Salesforce.
Selecting Recipients and Composing your Email
Narrow in on the group of students you want to receive your email using contact list views. For more information:

See this article for an overview of list views.
See this article to learn how to filter and sort list views.
See this article to learn how to adjust fields in list views.

Once your list view contains the right students, you will need to select them all.

If your list contains fewer than 50 students, you can click the "Select All" box in the column headings. You can deselect students if there are a handful you do not want to include.

If your list contains more than 50 students, you'll need to scroll all the way down to load all of the records (up to 200) before checking the "Select All" box. You can deselect students if there are a handful you do not want to include.
The maximum number of recipients per mass email is currently 200 when using list views. Further refine your list view if it is loading over 200 students.
Once all desired recipients have been selected, click Send List Emails in the top right corner.
Compose your mass email.

The list view name and the number of recipients from that list view will appear here. You can also include other students in the recipient list by adding their names into this box.
Enter your subject.
As with any typical email interface, you can take advantage of various rich text features, including bulleted lists, different fonts, and pictures.
If your signature does not appear here, be sure to update your email settings.
Use merge fields (see below).
Include a template (article coming soon!).
Include an attachment, if desired. The size limit for an email is 25 MB, with a per file attachment limit of 5 MB.
Discard your email if you would like to start over.
Save your email as a draft. See below to find list email drafts.
Review your email before sending (particularly important if you're using a template and/or merge fields).
Send your email OR
Schedule your email to be sent in the future.
Using Merge Fields
You can merge any field from a contact record into a mass email. When you click the Merge icon ((e) above), you will see a screen with dozens of potential fields to use. Use the search box to find the fields you want to include in your email and select them. First Name and Last Name are two handy fields to use in emails.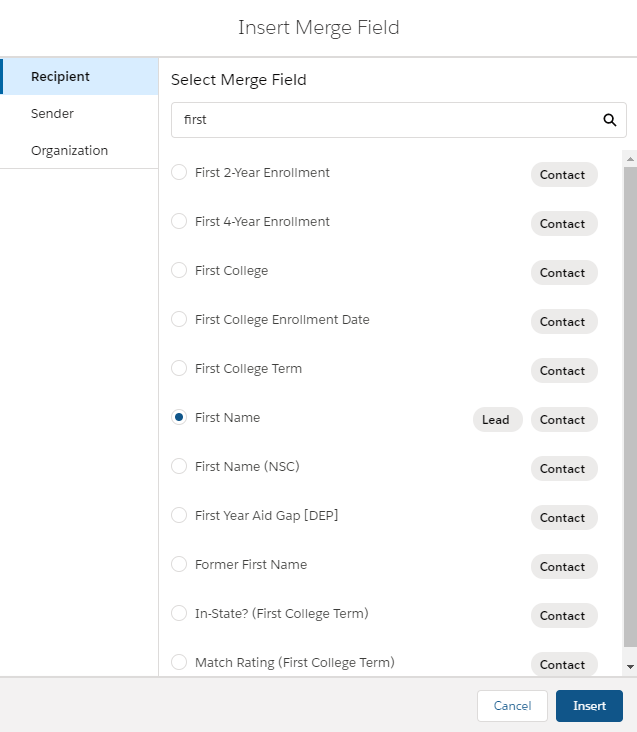 In most cases, stick to "Recipient" fields. "Sender" fields refer to fields from your own user record, and there is no application for "Organization" merge fields at this time.
List Email Drafts
To find your list emails:
Locate the app picker in the top left corner of any page in Gradforce.

Start typing "list emails" into the search box and click List Emails under Items.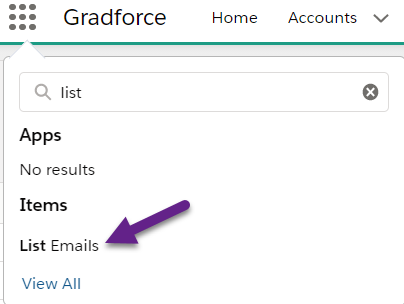 Click the down arrow next to Recently Viewed and select Drafts.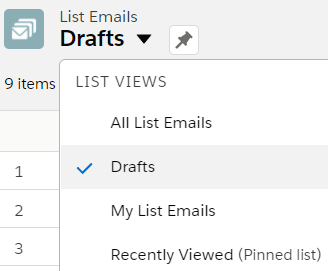 ---
---