Creating a Single Task
Use this "quick create" method to remind yourself to check in on a student. If you are logging an interaction that already took place, use Log a Call instead.
Navigate to the student's record page and locate the New Task tab under Activities.

Fill out the task information:

Type a brief subject for your task, such as "Follow up on textbooks". A dropdown will appear, but you can type your own subject - you do not have to use the subjects offered in the dropdown list.
Set a due date for the task.
If this task only affects one student, leave the student's name in the Name field and move to the next steps. You can add additional students (up to 50 total) if the same task applies to multiple students.
Leave Related To blank.
Your name will appear by default under Assigned To. To assign this task to somebody else, click the x and choose another user.
The default status is "Not Started". You can choose from the dropdown options if a more relevant status applies.

Click Save.
You will see the task now appears in the Activity Timeline under "Upcoming & Overdue". For more details on the task and to set a reminder, click the task subject to open up the task record.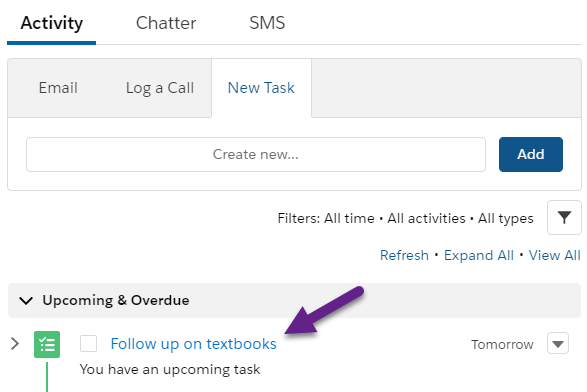 Edit the record to add additional information, such as:

Set a reminder for yourself on a certain date and time.
Include comments.
Change the priority to Low or High (the default is Normal)

Click Save.
Your task will appear on the Home Page in the Today's Tasks section on the due date. Once you have completed the task, you can either check the box directly on the home page or navigate back to the student's page and update the task in the Activity Timeline.
This is a quick and easy way to create a simple task for one student. To manage multiple tasks, create tasks for different students quickly, and see all of your past, current, and future tasks, use the Tasks tab instead (help article coming soon!).
---
---