View and Update Multiple Tasks
In addition to creating and updating a single task, you can work with multiple tasks at once by using the Tasks split view.
Navigating the Tasks Split View
Locate and select the Tasks tab in the nav bar.

Explore available list views, including Open Tasks (tasks that have not been completed), Overdue Tasks (open tasks whose due dates have passed), and Today's Tasks (tasks due today).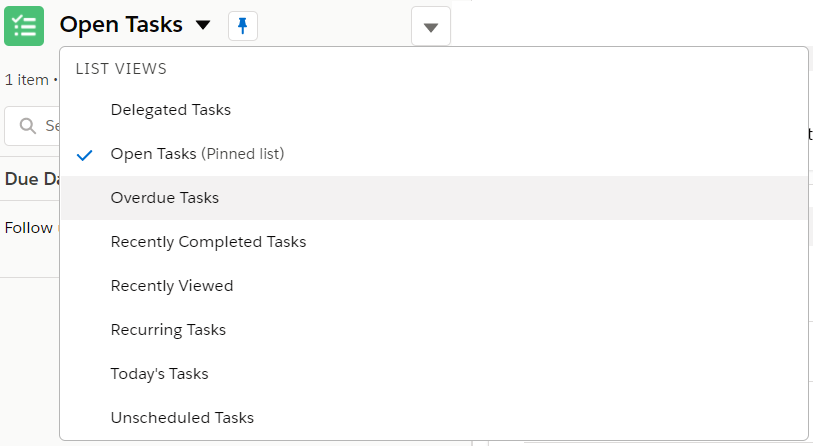 Select a view and click through the tasks. If you do not see any tasks under a view, you do not have any tasks that meet the list criteria (for example, if the Recently Completed Tasks list is empty, you have not completed any tasks in the past 30 days).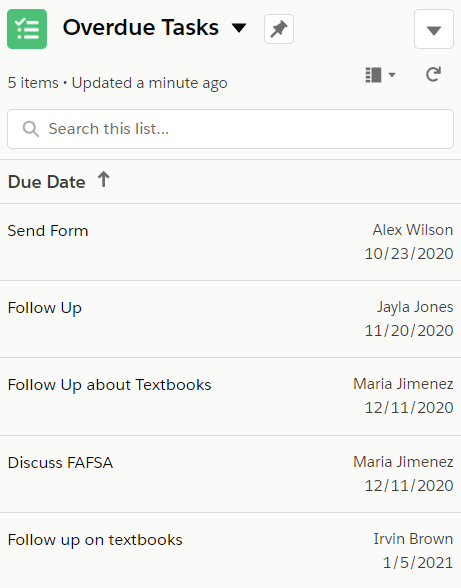 If you have created or edited tasks in a separate tab or window and want your list view to reflect the updates, click the Refresh button.

Editing Tasks
Select a task that needs to be updated.
If you are simply marking the task as "Complete", click the Mark Complete button.

Click the pencil icon next to a field that you would like to edit. You can:

Delegate the task to another user.
Change the subject.
Change the student or add up to 49 more students.
Update the due date.
Set a reminder for yourself on a specific day and time.
Include comments.
Update the status.
Modify the priority.

Click Save.
If you need to create another task related to your selected task, click the Create Follow-Up Task button and fill in the relevant details. You'll see that the Subject and Name fields are prefilled with the original task information.

To create a brand new task, click the boxed down arrow next to the view name and select New Task. Fill out the appropriate fields using Step 3 above as a guide.

---
---