Gradforce Reports: College Degrees
This article is part of our help doc series on Gradforce reports. For more report help docs, please click here.
Use this report to answer the following question:
What degrees have our alumni received, and in what majors?
Navigating to the Report
Click on the Reports tab.
In the menu, click All Reports.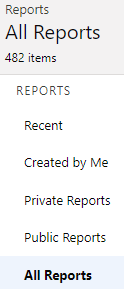 Using the report search bar, type "degree".
Select the Graduated Students by Degree Conferred report.

In this report, you will see each graduated student's:

Graduation year
First and last names
Graduation date
College from which they graduated
Link to the specific graduation college term
Degree title (Bachelor of Science, Associate of Arts, Bachelor of Business Administration, etc.)
Degree major (finance, psychology, nursing, etc.)
To find a specific student:
Click the magnifying glass to the top right corner of the report.
Type in the student's first, last, or full name. You may have to click through the down arrow to find the student.

Notes and Tips
We currently only receive major information for students who have graduated from college.
Students will only appear in this list of the college reported a degree title in the NSC record.
Students may appear more than once if they have received more than one degree (associates and bachelors, bachelors and graduate degree, etc.).
You can try filtering by degree title; however, the variation in degree titles can make this difficult (eg "BS" vs "B.S." vs "Bachelor of Science").
When searching for the report, you may also see the report "Graduate Degrees". This report filters degree titles to common graduate degree names: "MS", "MA", "MBA", "Master...".
---
---