Connecting to Einstein Activity Capture
Einstein Activity Capture (EAC) seamlessly and automatically syncs your emails and events to related contacts in Salesforce.
Once you connect your email account to EAC, all emails sent to and received from your contacts are automatically logged to their corresponding records inside of Salesforce. See "Notes" for more information on who can see these email messages.
If you see a banner at the top of any Salesforce screen that shows "Einstein Activity Capture is enabled", click the link and skip to step 4.
If you do not see a banner, navigate to your personal settings by clicking on your profile icon at the top right corner (if you see a generic avatar, you can update it with your photo by following these steps). Click Settings.

Click Connected Accounts in the menu to the left.

Click New Account.
Select which email provider your school uses: Google or Office365. If you use Outlook, choose Office365. To learn more about EAC, hover over the (i) to review the terms and services.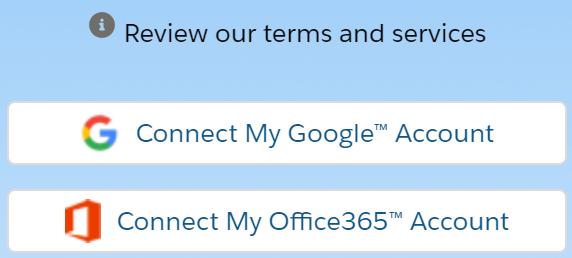 Follow any subsequent sign-in instructions to finish connecting your account.
Once you are done, a green banner should appear at the top of any Salesforce screen with this message: "We are getting Einstein Activity Capture ready for you." The sync process usually takes around 24-48 hours. In this banner, click the link that reads "Update Sharing Settings".

Select "Share with My Chatter Groups" and select your school's CWSP group. Click Save.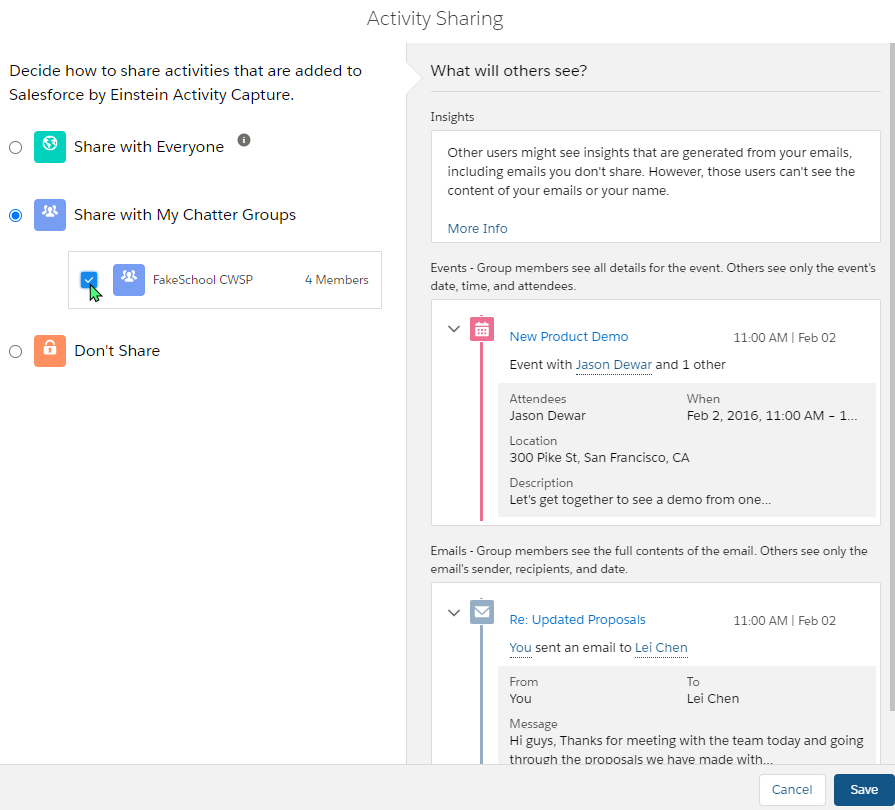 Notes
Selecting your CWSP team's chatter group in your sharing settings defaults email visibility to your CWSP team. Emails you send to and from contacts that have Salesforce records will be visible to your team members. To exclude specific emails or email addresses, see this article.
If you would like your emails to be visible only to you, you can select "Don't Share" in step 6 above (also accessible from your personal Salesforce settings). This will hide all email contents from your own team, limiting the usefulness of Einstein Activity Capture.
Occasionally, different Cristo Rey schools communicate with a shared contact, often when introducing a team to another city's branch of a company. In this instance, schools will be able to see that another school has communicated with that individual but will not be able to see the contents of the emails.
---
---