Sending a 1:1 Email through a Contact Record
If you need to send an email to just one contact, you can do so through their record page. If you need to send a mass email to multiple contacts, do so using list views.
If this is your first time sending an email through a contact record page, make sure to set up your email signature and then follow these steps before continuing through this article.
Navigate to the alumnus' record page and locate the activity timeline.
Confirm that the "Email" tab is open and click anywhere in the box that reads "Write an email...".
If the "To" field is empty, the student record page is missing an email address. Refer to
this article
to update the student's email address(es).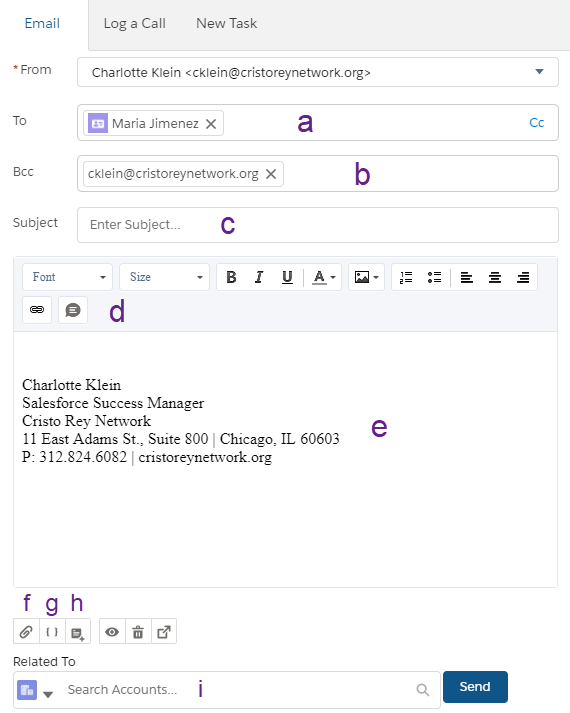 Compose your email:

Confirm your recipient appears in the To field. If you need to include another student, you can add them into this field as well. If you need to send your email to many contacts, consider using a list view instead. Do not send emails to university contacts from Gradforce.
If you are sending through Salesforce (and have not linked a Gmail account), the email will be BCCed to your email address.
Enter your subject.
As with any typical email interface, you can take advantage of various rich text features, including bulleted lists, different fonts, and pictures.
If your signature does not appear here, be sure to update your email settings.
Include an attachment, if desired.
Use merge fields (this feature is typically more relevant to mass emails but can be utilized in 1:1 emails as well).
Include a template (article coming soon!).
Do not relate your email to an account.

Click Send.
---
---