Student Time Card Submission
This article walks through the student time card submission process.
This help doc is intended to inform CWSP staff members - please do
not
share this help doc directly with students. For screenshots that can be used in student training materials, please see
this page
.
Time cards are automatically sent to students at the time designated by your CWSP team. You can verify that a time card was sent to a student by viewing the Time Card Status on the attendance record:

After time cards are sent, students will receive an email asking them to complete their time cards.

Upon clicking the button, students will be redirected to a form: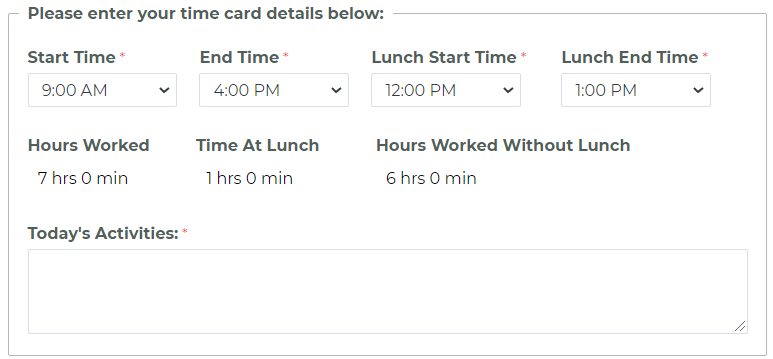 The student's Start Time, End Time, Lunch Start, and Lunch End will default to either your school's default hours or the job's default hours. The student can change any of these values using the dropdown list. The Hours Worked, Time At Lunch, and Hours Worked Without Lunch values will automatically calculate based on the times selected.
The student must type between 100 and 30,000 characters into Today's Activities in order to submit. If the student types fewer than 100 characters and tries to submit, they will receive an error reminding them to enter a minimum of 100 characters. Note that at this time, the character counter can only count down from 30,000 - this indicates the maximum character limit.

If the student has an outstanding, unsubmitted time card from this year, an additional box will appear at the bottom of their time card encouraging them to select the missing time card and fill it out. By selecting a date, the student will be directed to a new form upon clicking submit.
Once the student submits their time card(s), they will receive an email "receipt" indicating successful completion. At the same time, an email will be sent to the supervisor to provide feedback. Note that if the time card is late and the supervisor received their form before the student submitted, the supervisor will not receive another email, since they were already provided the opportunity to submit feedback. You can verify student completion by navigating back to the time card and checking the Time Card Status:
If a student cannot locate their time card email, you can click the Send Student Time Card button on the attendance record to resend it.
A few additional notes:
At the beginning of the school year, your team provided specific configurations for the following time card settings. We will release an easy way for your team to view these settings in fall 2021; until then, please email us to view and update your settings.

Number of student time card reminders (0-4) and the number of days/hours between the initial send and the reminders
Number of days/hours after the initial send when a time card is considered "late"
Number of days/hours after the initial send when a supervisor will receive the time card even if the student hasn't yet completed it
Default start, end, lunch start, and lunch end times (can be specified on job record also)
Default supervisor for "Worked at School" time cards
---
---