Gradforce Reports: Class of 2020 College Retention
This article is part of our help doc series on Gradforce reports. For more report help docs, please click here.
Use this report to answer the following question:
What percentage of the class of 2020 who enrolled in "College X" in their first year are persisting in the same college in year 2?
Navigating to the Report
Click on the Reports tab.
In the menu, click All Reports.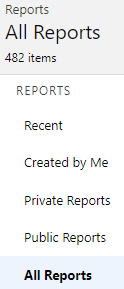 Using the report search bar, type "persistence".
Select the "Persistence by College - Class of 2020" report.

Enrollment Comparison Categories
Different College: the student's first Year 1 college, shown in the leftmost column, does not match their most recent college for fall 2021 (see "Notes" below for more information on first/most recent college).
Same College: the student's most recent fall 2021 college matches their first Year 1 college.
No Fall 2021 Enrollment: the student did not enroll in fall of 2021 or the advisor marked the student as not enrolled for fall of 2021.
To see the overall percentages for a specific college:
Click the magnifying glass to the top right corner of the report.
Type in the college name and press enter to see the number of students currently enrolled in that college.

To see which students are included in a specific college grouping:
Click the filter icon to the top right corner of the report.
Scroll to the last filter criteria - "Most Recent College not equal to "" " - and click in the criteria box to open up the filter options.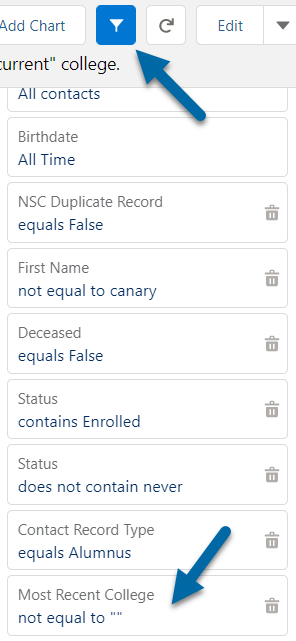 Change "not equal to" to "equals" or "contains" and type in the college name. Click Apply.

In the bottom toolbar, toggle Detail Rows. You will now see all students who originally enrolled in the specified college.

Notes and Tips
If a student has two concurrent enrollments for fall 2021, the college term record with the most recent "Enrollment Begin" date will determine the student's "current" college. If you see that a student's current college is incorrect, you can submit an NSC override by following these steps.
If a student had two concurrent enrollments their first semester of 2020, the college term record with the first "Enrollment Begin" date will determine the student's "first" college.
Any students who enrolled at some point between July 24, 2020 - April 30, 2021 are included in this report.
Students who changed campuses within a college/university may show as "different college".
Some colleges and universities include the location in their college name. For flexibility, use the "Contains" filter operator; for specificity, use the "Equals" filter operator.
Once you click out of the report, the "Most Recent College" filter will reset.
---
---